Good morning. Happy Wednesday.
The Asian/Pacific markets closed mostly up. Indonesia rallied 3.3%, India 2.7%, and Hong Kong, Japan, New Zealand, Singapore and South Korea more than 1%. Europe is currently up across the board. Austria is up 2.5%, and Belgium, France, Germany, Norway, Switzerland, Greece and London are up more than 1%. Futures here in the States point towards a relatively big gap up open for the cash market.
The dollar is down. Oil is up 1%, copper 2%. Gold is up 1%, silver 2.8%.
The ECB left interest rates unchanged at 1%.
Industrial output in Germany dropped 2.2% in April – worse than expected.
Industrial output in Spain dropped 8.3% – the biggest drop in two years.
Moody's cut the credit ratings of 6 German banks and Austria's 3 largest banks.
Here's the S&P 60 min chart. It topped in early April, tried hard to make a higher high in early May, and has been mostly down hill since then. The trend is down, and there's lots of resistance overhead. From a technical standpoint, a lot of work is needed before the bulls can retake control. But, as I've been saying for weeks, the market is somewhat hostage to news from Europe. On any given day, the market can plunge or rally based on the most recent headline. And because of this, even though the trend is down, there is increased risk in both directions. The market isn't trading for pure technical reasons (it never does), but the current situation is more extreme than most. It's like having an FOMC day every day.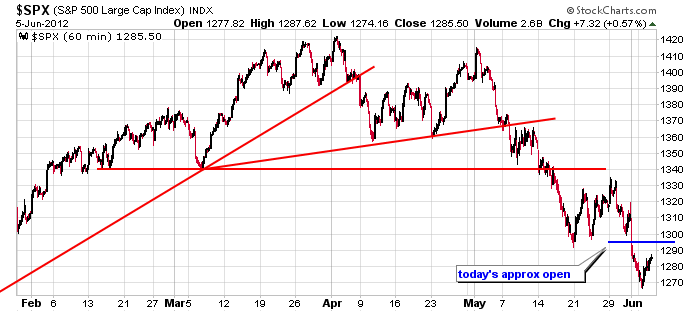 Before you enter any position, have a game plan. Will you take quick profits? Will you take half off at the first good opportunity and then leave the rest on with a loose stop in hopes of riding the bigger trend? There are lots of ways to trade a given set up. Many work fine as long as you're consistent. Just don't think you can fly by the seat of your pants. Have a plan and execute. More after the open. http://www.leavittbrothers.com/