Good morning. Happy Thursday.
The Asian/Pacific markets closed mostly up. South Korea rallied 2.6%, Australia and Japan more than 1%. Europe is currently up across the board. Greece and Stockholm are up more than 3%, Austria and the Czech Republic more than 2%, France, Germany and London more than 1%. Futures here in the States point towards a moderate gap up open for the cash market.
The dollar is down. Oil and copper are up. Gold and silver are up.
The big news out this morning is China cut interest rates by 25 basis points. They often cut their reserve requirement, but this is the first rate cut since 2008. They'd only do it if they felt the economy needed it, so the hidden message here isn't a good one. S&P futures jumped 10 points on the news – the futures entire gain.
The Bank of England kept its own interest rate the same at 0.5%.
Bernanke will speak before the Joint Economic Committee today, 30 minutes after the open. He'll be talking about the economic outlook.
The market got clobbered last Friday after the latest employment numbers were released. Those losses have now been recovered. The first move off a local bottom is the easy move. Sentiment is overly stacked on one side, and once sellers start to thin out, it's not hard for the market to bounce forcefully. The combination of bottom fishing and short covering can produce some pretty quick and energetic moves. The biggest moves, after all, tend to come during downtrends. But after a couple days of bouncing, real buying needs to take place. Otherwise the bounce ends up being an innocent bounce within a downtrend instead of a the beginning of an uptrend. I'd say we're there right now – the easy stuff is done, now it gets harder. Yesterday was easy, but for the bounce to continue today and tomorrow, that would be impressive – at least in the near term. Here's the daily S&P. Coincidentally the index bounces off its early December high.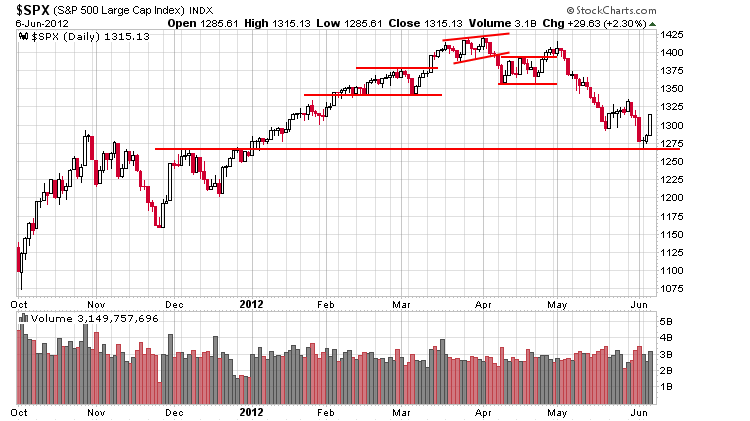 The current situation is not easy to trade because we don't know if this is just a bounce within a downtrend or the beginning of an uptrend. If you give shorts room to move against you within the downtrend, you could give back most or all of your profits before you find out the answer to this question. Becasue of this you have to decide ahead of time how long you anticipate holding – you don't determine this in the heat of the moment. You're either the type of trader who takes quick profits and looks for the next entry or you ride out the bounces with loose stops. Both work fine, but I don't suggest you switch back and forth. Have a plan and stick to it. More after the open.www.leavittbrothers.com